Ph.D. in Global Leadership
Residency Weekends
Once a year, students in the Ph.D. in Global Leadership program are required to participate in on-campus residency weekends (also known as Immersion Weekends).
Classes that Fit Your Schedule
All courses in the Ph.D. program are delivered online, allowing students to pursue the degree while balancing family, work and community responsibilities.
Upcoming Course Schdule
Session 3 Registration Deadline
Dec 22, 2023
Session 3
Jan 8, 2024 - Mar 3, 2024
Session 4 Registration Deadline
Feb 23, 2024
Session 4
Mar 11, 2024 - May 5, 2024
Session 5 Registration Deadline
Apr 26, 2024
Session 6 Registration Deadline
Apr 26, 2024
5 Curriculum Options
The Ph.D. in Global Leadership program offers five distinct curriculum options, as well as a post-graduate certificate in global leadership. All students complete core courses in research and global leadership. The concentration courses provide students the opportunity to gain practitioner knowledge and up-to-date best practices, which will be explored through individual research and the dissertation.
Business Administration (for MBA graduates only)
Global Health Leadership
Higher Education Administration
Organizational Leadership
Organizational Leadership/Higher Education Administration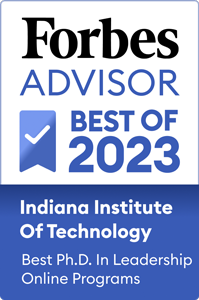 Forbes Advisor Education, one of the nation's most trusted and respected assessors of higher education, recently rated Indiana Tech's Ph.D. in Global Leadership program among the top five online Ph.D. in leadership programs in the nation.